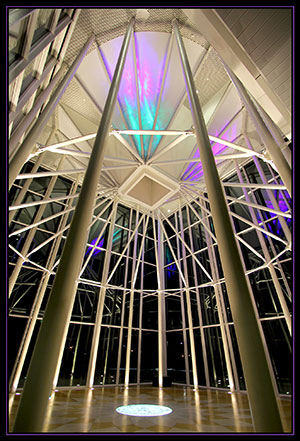 Nov. 2, 2014 marked the 125th anniversary of statehood—the perfect time to celebrate the grand opening of the expanded North Dakota Heritage Center & State Museum.
Four galleries tell the fascinating story of North Dakota through thousands of artifacts and specimens, high-tech displays, and interactive exhibits.
Experience North Dakota's heritage throughout the museum spaces. Along with the galleries, hallway exhibits located within the Corridor of History also help tell our unique story. The Northern Lights Atrium is a stunning combination of architecture and symbolism, and the outdoor Pembina River Plaza features specimens from our geologic past.
Find treasures in the new Museum Store, and enjoy refreshments at El Coqui Eatery.  After you explore the museum, take a walk on our beautiful grounds, part of the Capitol Arboretum Trail.
From a life-size T. rex skeleton cast to a 1950s soda shop, you will find connections from your own life with your experience here. Our goal is "history for everyone."
The North Dakota Heritage Center is home to the State Historical Society of North Dakota (SHSND) and the State Museum, the State Archives, the State Historical Society of North Dakota Foundation, and the North Dakota Geological Survey paleontologists.
Admission is free, every day.