Facility Rental
Beautiful Events

start with Beautiful Spaces.
Whether it's an intimate seated dinner surrounded by the brilliance of our spectacular Northern Lights Atrium or an elegant corporate event in the Missouri River Event Center, the North Dakota Heritage Center offers imaginative new spaces to make every event truly unforgettable. We offer architecturally stunning and educationally rich spaces where people can dine, visit museum galleries, and socialize in the shadow of a towering mastodon.
Create the ideal event for 20 to 2,000 guests. Our Event Coordinator can help you plan a spectacular customized affair!
Event Spaces
Facilities are available seven days a week between 8 a.m. and 11 p.m. Some spaces are available for rent only after regular museum hours.
For more information on pricing, location and more, view our Fees For Use pdf.
Northern Lights Atrium
(seats 90)
The stunning Northern Lights Atrium is considered to be one of the most unique places in Bismarck-Mandan.
Missouri River Event Center
(seats 200)
The newly renovated Missouri River Event Center has an open floor plan that is perfect for banquets, receptions, and presentations.
Corridor of History

(seats 65)
Transform this unique space into a spectacular site for large standing receptions or seated dinners, with a towering mastodon and entrances to four museum galleries.
Russell Reid Auditorium
(seats 265)
Newly renovated with a backstage area, comfortable seating, and a large new screen, the auditorium is ideal for company meetings, lectures, film showings.
Great Plains Theater

(seats 65)
This new State Museum space is ideal for small gatherings of less than 65 people, film showings, and lectures.
Classroom Spaces

(seats 25 per room)
Our three classrooms with screens are the perfect versatile spaces for anything from a quick lunch to an all-day teambuilding space that's already set up for learning.
Prairie Amphitheater

(outdoors near east entrance)
This newly completed amphitheater is available for community events such as performances, arts events, and lectures seating up to several thousand people on blankets and lawn chairs.
Badlands Plaza

(outdoors at west entrance)
The Badlands Plaza provides the perfect outdoor location for your wedding reception or corporate event. Showcasing a grand view of the State Capitol, this elegant location is one of a kind.
Equipment
Most rental spaces may be equipped with tables, chairs, a telephone, and microphones. Audiovisual equipment such as slide projectors, overhead projectors, and easels are available on request.
Food Service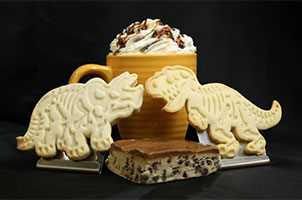 The James River Café offers North Dakota-themed breakfast pastries, soups, sandwiches, pizzas, specialty desserts and coffees, and more. The café is available for catering appetizers and full meals during regular hours and after hours. For food service needs, facility users must furnish food and beverages via the James River Café (Harvest Catering & Events) or from any licensed food service vendor. The café staff has the first right of refusal on catering during regular business hours and is available to work with your event planners to meet your needs. Vending machines are on site.
For the James River Café, call 701.751.5996.
For catering, contact Renee at 701.751.4393 (option 1), 701.226.1640, or booking@harvestcateringnd.com.
Reservations
For Information & Reservations, contact:
Dean Ihla
Event Coordinator
701.328.4187
museumrentals@nd.gov